Interior Painting
Overview
Whether you have new construction that needs interior painting or you're just wanting to brighten up your interior walls with new interior painting, hiring an interior painting company is a simple and effective way to get the painting job done. Of course, you could do it yourself, but who wants to wrestle with drop cloths and stepladders if you can hire a professional interior painter to do it for you?
As you consider hiring a professional interior painting company, the process of choosing the right one might seem a little overwhelming. By knowing what to expect from the professional interior paintors, you will be in an excellent position to ensure that the painting performed in your home meets your high standards.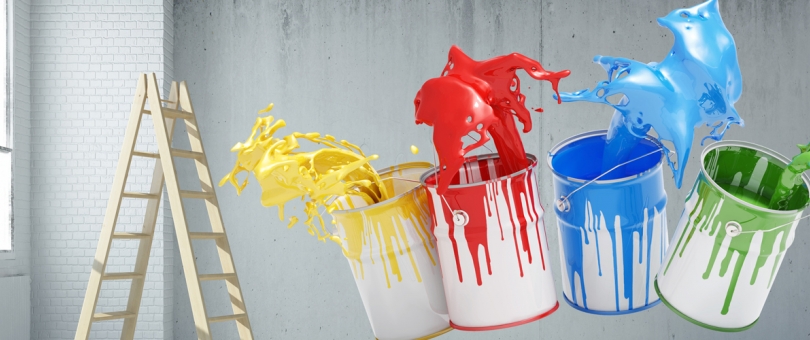 Average Cost
Average Cost Of Interior Painting
There are a number of different factors that can play a role in the total cost of hiring a professional interior painting services. One, perhaps most obviously, is the cost and quality of the paint itself. A single gallon of paint can cover between 300 and 350 square feet. The bulk of the expense will be labor, and the accessibility as well as size of the space will determine the overall cost for the painting service.
Having a clear picture of the costs associated with a interior painting company can help you plan a budget.
Interior paint itself costs anywhere from $10-$75 or more a gallon, depending on the quality.
Expect to pay $200-$400 to have a normal sized room painted by an interior painter with brand-name paints.
Having the ceiling painted adds the cost.
Materials Needed For Interior Painting
Primer  
Almost all paint jobs will benefit from an initial coat of primer. If the new paint is a paler shade than the existing paint, the primer is fundamental to getting the best results possible.
Paint 
There are dozens of quality brands available, and for a room in the size described it will require two full gallons to cover the walls.
Supplies 
Brushes, roller covers, paint trays, caulk, paint tray liners, rollers, tape, fill, drop cloths, and sandpaper are common tools put to use by a painter. Just like the paint to be used for the project, the better the quality the supplies, the better the end results.
Questions To Ask Your Local Interior Painting Company
Employee Or Sub-Contractors? 
It is likely that the paint company employee who interacts with customers is not the same employee who will perform the job. Asking about the professionals who will actually be performing the painting allows you to learn more about their training. Asking about employees is an easy way to learn if your company employs subcontractors.
How Long Will The Job Take?
Be sure to ask about the scheduling of the project. This information will make it easy to schedule around times the interior painters will be in your home. Timetables and work deadlines also help keep professional painting companies accountable to their promises.
Guaranteed? 
A comprehensive written guarantee reflects professional interior painters who are confident in their service. Use the extent of a guarantee, as well as readiness to submit this guarantee in writing, as a measure of contractor quality. Many low-quality contractors may only offer the guarantee provided by the paint manufacturer.
Post Project Inspection
Homeowners should  find out if the guarantee includes a post-project inspection. This guided tour ensures clients that each component of their painting  job is completed to 100% satisfaction.
References?  
You may be able to find feedback – good and bad- on the web. How did the interior painting company respond to the negative feedback if any? Things may not always go 100% smoothly, but did the interior painting company make a sincere effort to put things right if they didn't?
Basic Information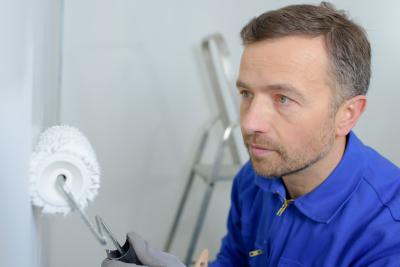 Tips & Advice
Ask For The License – Ask for all local and state business licenses.
Proof Of Insurance – For your own protection, check proof of both workman's compensation and  liability Insurance.
Business Stability – Find out how long the company has been in business.
Check Online Reviews – You're probably not the first person in town looking for their services. Rely on the internet to get reviews written by people in your community.
References – Expect any top-notch company to be able to provide you with references upon request. Once you have these names, contact the clients to get information about the quality service. When you call, ask questions about the work, timeliness, cost and whether the clients would use the company again for future work.
24-hour Emergency Service – Make sure your local company offers emergency 24 hour service. If something goes wrong, it's good to know that you will not have to wait days for them to come out and fix it.
Over The Phone Pricing –  Honest estimates simply cannot be given over the phone – especially if you aren't talking with an actual technician when you call.
Free Estimates – Most companies offer free estimates. This is important because they can provide you with the costs upfront, so that you are not shocked with a bill after the services are completed.
Safety Record – Safety can be a significant factor, so ask the company about their safety records to ensure that any service professional you hire has a satisfactory safety record. You want a company that doesn't have a high incidence of on-the-job mishaps or injuries.
Building Codes – In certain areas you'll need to make sure that the local company meets all building code requirements.
Satisfaction Guarantee – Choosing a company that offers a satisfaction guarantee will ensure that they will get the job done right the first time and will save you money and frustration in the long run.
Cleanup – The mess left behind after a project can be major. Ask what cleanup work the company includes with it's services.
Interior Painting Service in